As Jay-Z said, "What's better than one billionaire? Two. 'Specially if they're from the same hue as you."
Love and having a booming career is a beautiful thing, but it's even sweeter when you are with someone you can share and grow it with.
Besides some of our favorite Black power couples Barack and Michelle, Will and Jada, and Jay and Bey, here are 7 Black, couple-preneurs that prove mixing business and pleasure can be a good thing. #relationshipgoals
1.Jamyla and Pierre Bennu of Oyin Handmade
This couple is the mastermind behind one of our favorite beauty products. They created Oyin Handmade 14 years ago, and since then they have expanded it into select Whole Foods, Sally's Beauty Supply stores, and Target stores nationwide.
2. Mara Brock Akil and Salim Akil of Akil Productions
The Akil's are the creators behind some of our favorite shows: The Game, Being Mary Jane, and Girlfriends. They met in a cafe 15 years ago, and eventually created Akil Productions in 2000. When asked about their secret to their successful marriage, Mara told Essence: "What's been successful for our marriage, and just every entity that is a satellite to our marriage, is we have defined for us what our life should look like: personally, professionally, spiritually and so on. If you compare yourself to other people, then you get distracted on the wrong thing and can't see your own blessings."
3. Tony Lawson and Shantrelle Lewis of Shoppe Black
Tony and Shantrelle started out as just business partners, but shortly after cupid struck and they fell in love. As business partners they created Shoppe Black, a website that showcases black business and culture on a global scale.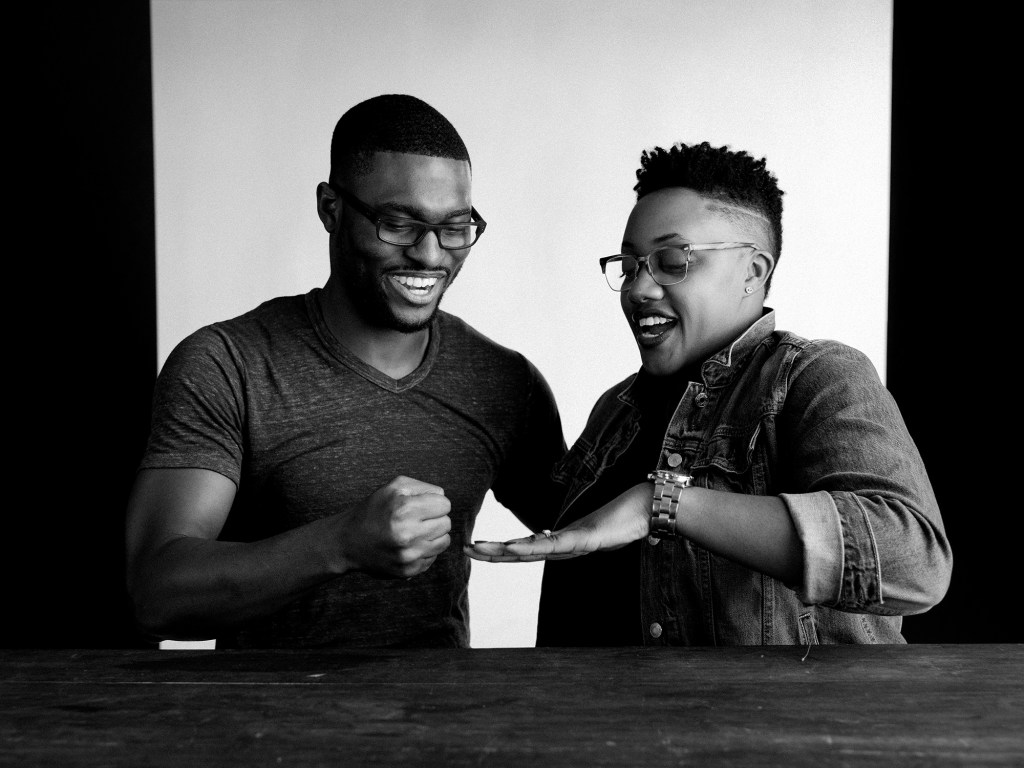 4.Christian Reed-Ogba and Uche Ogba
The Ogba's founded BethanyEast PR, San Antonio, Texas' only Black-owned public relations firm. After meeting, they built their business from the ground-up with their mutual passion for "creating innovative natural, local, traditional and social media strategies."
5. Andy and Ashley Williams of Recon Realty
The founders of Recon Realty and hosts of HGTV's Flip or Flop Ft. Worth met and bonded over their military experiences, their love for health and fitness, and for real estate. Soon after, they turned their mutual passions into a thriving, flipping home business.
6. Brian and Autumn Merritt of Sir & Madame
Founded in 2007, Sir & Madame is one of Chicago's hottest clothing boutique for men and women. Sir & Madame is the lovechild of Brian and Autumn Merritt, and was created after they mutually saw a void in the boutique market for cohesive men & women casual wear. You can currently purchase their dope apparel online or in their Chi town store.
7. Quintin & Megan Lathan of Beauty Plus
The beauty supply industry is one that I've always wished had more Black business owners. Afterall, Black dollars make up the majority beauty supply store sales so we should be the ones owning the industry. After meeting through a family member, Quintin and Megan fell in love and later started their own business together in the beauty supply industry. Beauty Plus, a beauty supply store in Baltimore, is the love child of the Lathan's. When asked by Shoppe Black about the most important thing to remember when being married to your business partner Quintin said "[Do not] get into heated arguments about the business so much that it affects the marriage because the marriage is more important than the business. Also, always make time for romance and quality time."
Do you know of any other Black couple-preneurs? Shout them out in the comments!