Guyanese-born Rahsaan Alexander, known to most by his stage name- DJ Fly Guy, is a perfect example of when life gives you lemons, make a lemonade… and then build a lemonade stand to sell that lemonade... and even still freeze that lemonade and make popsicles for the stores to sell. In other words, he does not subscribe to the idea that life happens to you. He makes life happen.
When the COVID-19 pandemic hit, the music entertainment industry was drastically impacted. Like many other DJ's, Fly Guy continued to provide entertainment through Instagram, Twitch, and Facebook. But he didn't stop there. He looked closely at his current business and the opportunities that his brand could benefit from, and made several pivots that has helped him become a stronger entrepreneur.
Fly Guy sat down with the Mogul Millennial team to share his entrepreneurial journey, and what he learned from pivoting during critical moments in his career.
REMEMBER YOUR ROOTS
When he was in high school, Fly Guy won an entrepreneurial contest where he pitched to start a t-shirt company. He was awarded a prize at that time to start his first company. So he taught himself how to print shirts and got to work. Fast forward to college, he studied broadcast journalism at Florida A&M University with a dream to be the hottest rapper out here. His path post-college lead him to NYC in the fashion industry working with Mecca's marketing and design departments. Because he didn't learn marketing and design in his major, he self-educated and trained himself to use the different software needed for creative output.
After leaving Brooklyn, Fly Guy headed to Miami still pursuing his dream of being a rapper. In this pursuit, he built relationships with DJs throughout Miami's club scene. He even asked some of them to teach him how to DJ and they flat out told him no. Once again, Fly Guy sought out to teach himself how to DJ. While DJing was new to him, he already had a long lineage with music at this point in his life so he only needed to learn how to operate the machinery. "Once I mastered that they would let me play the last 30 minutes of the night, which was 4:30 am to 5:00 am. Every Sunday. And then that led to well, "you can play early, you can play at 10 o'clock, but nobody's here, which meant I had to come at nine o'clock and help build the stage."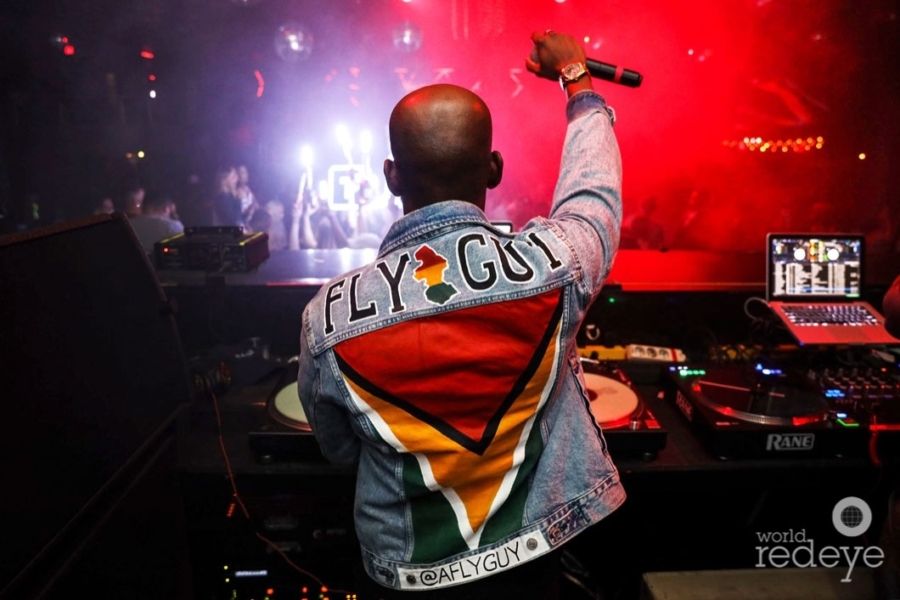 So a typical day for Fly Guy was he worked his job at Aventura mall all day, traveled an hour to get to the club, built the stage (this took about an hour), played music for an empty room, waited 5 hours and played music for another empty room. He did this for a year and a half before his name was well known and people started coming to see him and requesting him. Fly guy considers these the dues he paid and the sacrifices he made to advance his career. "I learned to humble myself and go hard for something and ask... and demand... and sweat blood tears."
DON'T PUT ALL OF YOUR EGGS IN ONE BASKET
When the pandemic hit, Fly Guy didn't get a PPP or SBA loan. He did not receive a stimulus check, so his fan base [customers] truly were his lifeline at the beginning of quarantine. He consistently provided quality shows on social platforms and he was honest and transparent with his fans about his circumstances. "The tips started coming and kept coming." He created a concept called 'The Flyest Storm" every night and people actually started thanking him for providing this experience during the unexpected times. "Little did they know providing them with that experience was the best part of my days." Covid has been a reminder for Fly Guy that cultivating and curating your audience is just as important now as it was pre-rona.
Fly Guy also recognized that his life prior to COVID won't be the same for a few years (or maybe ever), so he needed to diversify his earning potential. "Being at home stuck in the house gives you a lot of time to think and be creative." With that in mind, Fly Guy revisited his experience in design and fashion. "I started a brand in 2012 and at the time I didn't give it the focus it needed because my DJing took off. 2020 was the time to bring it back." And that's exactly what he did with Starbird.
With an eye for design, Fly Guy also expanded his photography skills during 2020. So much so, that he published a book of photography this year titled To Miami, With Love, which is a coffee table book of images and a life that he captured from behind the lens during the quarantine. He states that fifty years from now when everyone mentions the pandemic of 2020 he wants them to have something to go back and reference visually. For that reason and more is why the book is headed to the Library of Congress. The photographs will be exhibited as part of the Art of Black Miami 2020 on December 5, 2020, during Art Basel weekend.  

"The thing that I want people to understand is that I'm an artist. Period. It's in people's nature to try to pigeonhole.  It's in people's nature to think, because they only know you as one thing, you should only do that one thing, you shouldn't do anything else and you can't expand and grow." Fly Guy doesn't subscribe to that way of thinking and 2020 has been a clear indicator of that as he manages his music, fashion, and photography.
"As Black people, God has given us such a high level of thinking and ability that we almost do ourselves a disservice to that blessing by only focusing on one thing, or telling someone they should only focus on one thing, why why do we try to limit each other? We should be commending each other and promoting each other," Fly Guy said.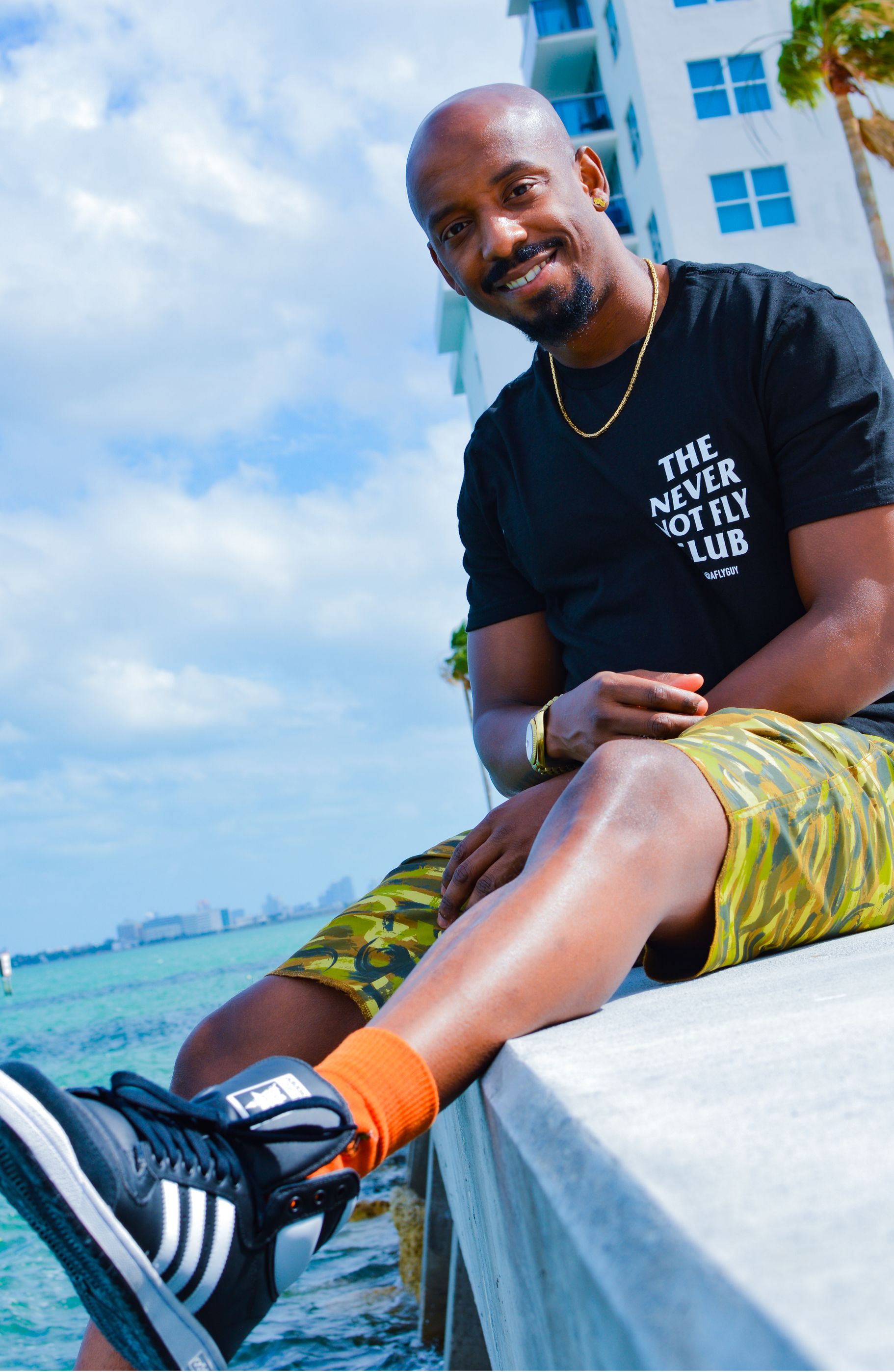 DON'T JUST PIVOT, FLY
Pivot. It's a word that many of us hear often. When COVID19 hit, it was drilled into our minds. Fly Guy challenges us to not just pivot but expand.  He reminds us that people buy into a person. Once they buy into you, you can fly. They'll be more receptive to things that you give them. "So whether it's a party to come to or if it's merchandise, whatever it is that you're involved in, they're all extensions of who you are as a person. If people are invested in you, they're going to be more receptive to what it is. "My pivot is refining my merchandise, my apparel collection, my podcast, my photography, and continuing to evolve and adapt and grow as an artist to provide quality product content, merchandise, and experiences," Fly Guy shared.
Words his stepfather said to him as a child resonates with Fly Guy daily, 'If it's got to be, it's up to me.' He interprets this to mean that no one is going to care more about your dreams and aspirations more than you. It has to start and end with you. The way he reimagined 2020 is proof that Fly Guy lives by these words. He also shares that after reading The 50th Law by Robert Greene, the idea that  "life rewards the risk-takers" has guided many of his decisions. "In a moment when you feel the most apprehensive and the most fear, fearful of taking that risk and taking that chance. That's the exact moment you should do it. And at that moment, that leap of faith, you'll receive your greatest reward."
When we asked Fly Guy what makes him a Mogul Millennial he said "my relentless drive to succeed, to not be beaten down by life circumstances, to take the knocks, and get up and run faster and be stronger and think bigger, and go after it." We absolutely agree that his mindset is becoming of a true mogul-minded millennial!