According to a study, 85% of people hate their job.
If that's really true, why do people stay? Why do people continue to do work that doesn't serve them or excite them?
As the saying goes, "Life begins once you get out of your comfort zone."
When you get out of your comfort zone and remove the fear that's holding you back, you become one step closer to living out your purpose.
For some of you, you may be like serial entrepreneur Tracey Pickett, who's not apart of that 85% of people who hate their job. Instead, you may be working a decent job, with great pay, but there's a little, teeny tiny voice inside of you that's telling you there is more.
Tracey, an Atlanta native and Spelman alum, began her career as an attorney at a Fortune 500 company working in the areas of corporate and intellectual property law. Despite this, she knew she wanted more out of life and for herself.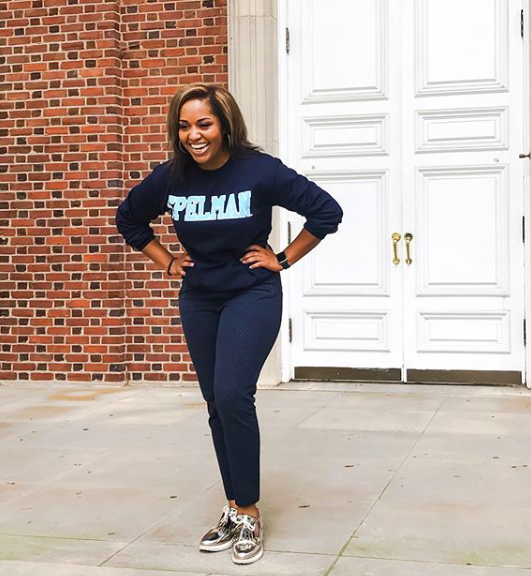 Prior to becoming an attorney, Tracey had several business ideas. Coming from a family of entrepreneurs, she was always passionate about entrepreneurship, and as she said in an interview, "I knew that I would not be living my best life if I didn't go after that dream."
For Tracey, that dream became launching two startups – the first being a media design tech company, and the second one, a patent-protected hat company that protects various hairstyles, lengths, and textures from the rain and humidity.
In an exclusive interview with Tracey, we learned about her serial entrepreneurial journey, and how she was able to take her ideas from a concept, to a profitable, scalable business.
What were you doing before entrepreneurship and when did you decide to take the leap?
I always wanted to be an entrepreneur. I kept having ideas while in college about business and products that I was really excited about – but entrepreneurship wasn't that popular back then. I knew I needed to go to school first, so I went ahead, and went to college. While there, I wrote a letter that was going to basically boomerang back to myself within the next 5 years. I told myself that I was going to practice law but I promised to not practice it for more than 5 years. I knew that if I didn't eventually take the leap, I would regret it.
As the years progressed, I never forgot about that letter to myself; I kept track of time and would remind myself of the 5-year mark that would be soon coming up.
Around four years of practicing law, I started my first startup Eboticon. This was in 2014.
When I had the idea to launch my second startup Hairbrella, I knew that there was no way I could launch and grow both startups while working full-time practicing law, so I saved up a years worth of income and I left on my fifth year anniversary in October of 2016.
Throughout this time, before I quit my job, I was working on product development for my startups. During the day and work week I was practicing IP (intellectual property) and corporate law, and on nights and weekends, I was making rain hats and emojis.
How did the idea of Hairbrella come about?
During college I had grown out my permed hair, my mom wasn't paying for my hair to get done, and I was wearing my hair pressed. I would walk to class with my pressed hair, and my hair would be completely swollen if it rained outside (even if I had an umbrella because of the humidity). I just knew that it had to be a hat or some kind of solution to solve this problem.
Years later, it didn't hit me on how to solve this problem until I was in law school. One day it was raining and I put on a shower cap, along with a cute beanie from Charlotte Russe to protect my hair from the rain. After I did that, I realized how stylish and useful my invention was and I knew I needed to create a product that would protect my hair, but it wouldn't look like I was trying to protect my hair.
How did the idea of Eboticon come about?
The idea came about from frustrations in texting conversations. I would text people and would want to use emojis that would represent all of my cultural experiences and thoughts.
For example, my parents are pastors, and I'm pretty animated. Often when I would text, I would use cultural references from the church, and sometimes I wanted to use a shouting, dancing emoji that could, for example, say things like 'won't he do it?!', but I couldn't find anything like that on the market to represent that. From there, my company Eboticon evolved and became official after I found the team to help me bring it all together.
How did you find team members for Eboticon?
I went to middle school with some twins who became the valedictorian and salutatorian of their high school class, and when they went to college, they switched (one graduated as the valedictorian and the other as the salutatorian). The twins were my friends and they helped me out in the beginning stages.
I met another person while playing drums at a church who I had told about Eboticon, and he would often ask me about it, holding me accountable. He eventually introduced me to two Georgia Tech graduates who ended up being on the founding team for Eboticon.
I tell people all the time, if you're serious and really intend to do something, get on the path to find the resources, and once you've done all that you can do, God will put the right people in your path. If you're not moving, and just waiting on people to come to you, you will never get things done.
What was your experience like dealing with the design process for Hairbrella?
I started first with getting a patent, because I didn't want to build anything that I knew I couldn't protect and people could rip off. I saved the money for the patent, and on the day before I had to spend the money on the patent, I asked God for a sign. On the day I was about to spend my money on the patent, I ran into Sara Blakely, the founder of Spanx, at a local Atlanta hibachi grill. Sara randomly sat next to me and that was all the confirmation I needed.
From there I did the patent, and I started working on creating the product. Then I went online, and searched for companies that could help me build out the prototype. After trying to get the prototype built and going through a few failed companies, I was still working on Eboticon in a shared workspace. I ran into someone that was working in the trading and manufacturing space out in China, and it turned out that they had a product development team here [in Atlanta]. They introduced me to someone that was really good and local, and we've been working together since then for about 3 years.
After I found the product developer, I would literally sketch out what I wanted and would buy shower caps, bonnets, fabric, and bobby pins. From there, I would put together what I imagined. I would meet with the product developer every other week, and she would have a new prototype for me to view. We continued to meet every other week until we had a good prototype. We went through about 6 prototypes until we had one that we wanted to test. After we finished that, I put together a focus group that included my friends and people from church. I had them come out and try out the product, and to give me feedback.
From there, we worked on more prototypes and then decided to launch a Kickstarter campaign to get more feedback. A few months later, we went through a few more product versions, until we got to the product that we have now. We're still improving upon it, but now we know that it's viable in the market, people are buying it, and we're getting more feedback.
How did you find the balance to work on two startups at once?
It was definitely a struggle. Sometimes I found myself neglecting one and working more on the other. I wouldn't recommend doing that; I think it's best to work on one thing. However, one thing that I was able to do since my startups weren't created at the same time, was space out and manage my time.
For example, while I was working really hard to build my eboticons, I was working on the product development for Hairbrella. Since it wasn't me actually creating the eboticons and sewing together the prototypes, I could manage the processes at different times. At the time upon launching Hairbrella, I already had Eboticon built up and had trained people to keep things running.
As a new entrepreneur, it can be hard to confidently move in your purpose. What was your experience like when people first found out about your venture?
I remember the first time my coworkers found out about Eboticon. It was through an unexpected international business article that I was featured in. From my coworkers, I could feel all the side-eyes, and I knew people were wondering why in the world I was making 6 figures and trying to make emojis on the side.
Despite this, I felt convicted in my ideas, and over time they slowly started admiring me for working on my startup.
Why did you decide to go the Kickstarter route with Hairbrella?
I wanted to do Kickstarter for a couple of reasons. First, I felt it was one thing to have a concept, but it's another to have a concept that people would actually buy. I needed proof and to test out my idea, and I knew that Kickstarter was the best way to go.
What was your strategy with Kickstarter?
Honestly, I didn't really have a strategy in the beginning; I relied heavily on my social network. I did, however, take time out to get my content together. There were many things that I didn't anticipate, and I wish I would've taken more time to prepare for. For example, we didn't do any PR and I know it would've definitely helped out my campaign. We had a promo video, but we ended up re-shooting it because of unexpected difficulties. For example, we didn't include certain info in the video that people needed on the product, so we included those details in the new promo video.
There are just so many things I would've done differently. I would've also leveraged my network better, and I would've been more relentless about putting myself out there.
If you're thinking about starting a Kickstarter campaign, read all the blogs and watch all the videos about starting one. There is so much good information online that can benefit you. If I would've done all of that ahead of time, I would've been more successful with my Kickstarter campaign.
To keep up with Tracey's entrepreneurial journey, check out her startups by clicking on the links below.