Hakeem James is a Black millennial founder from Ohio who recently moved his startup to Dallas.
Jeff Bezos is an entrepreneur and investor who founded Amazon.
Outside of launching startups, what else do these two men have in common?

It's being customer obsessive.
If you're new to this term, being customer obsessive or having customer obsession means you work hard to continuously add value to the customer experience. As a business leader, you regularly collect customer feedback, and the customer needs are prioritized in your biz goals.  
Jeff Bezos was once quoted saying, "The number one thing that has made us successful at Amazon is having an obsessive, compulsive focus on the customer."
Hakeem and his team over at CustomerX.i have this same type of big boss energy and practice it every day.
If you're unaware, CustomerX.i is a tech company that dives deep into the ocean of data to bring insights back to the surface to help you, as a business leader, find, understand and engage your customers.
As Hakeem told Mogul Millennial, "We are primarily for restaurants. We do service other mom-and-pop type businesses but we are geared and set up to primarily serve restaurants as our focus for today."
Growing up in Ohio, Hakeem saw it wasn't really the big brands making a difference in his community - it was the mom-and-pop shops. Post-college, it was important for Hakeem to do as much as possible to impact those mom-and-pop businesses that have done, and still do, so much for our communities. As a tech founder, Hakeem does this by arming restaurants and other businesses with technology that's generally too expensive or complicated to use.
Through his tech company, Hakeem helps these businesses have that same type of energy that he and Jeff Bezos share - being customer obsessive.
Recently at Mogul Millennial, we chatted with Hakeem about what he's building over at CustomerX.i, and how being customer-obsessed has helped him grow his business.
Here are the top takeaways from our convo.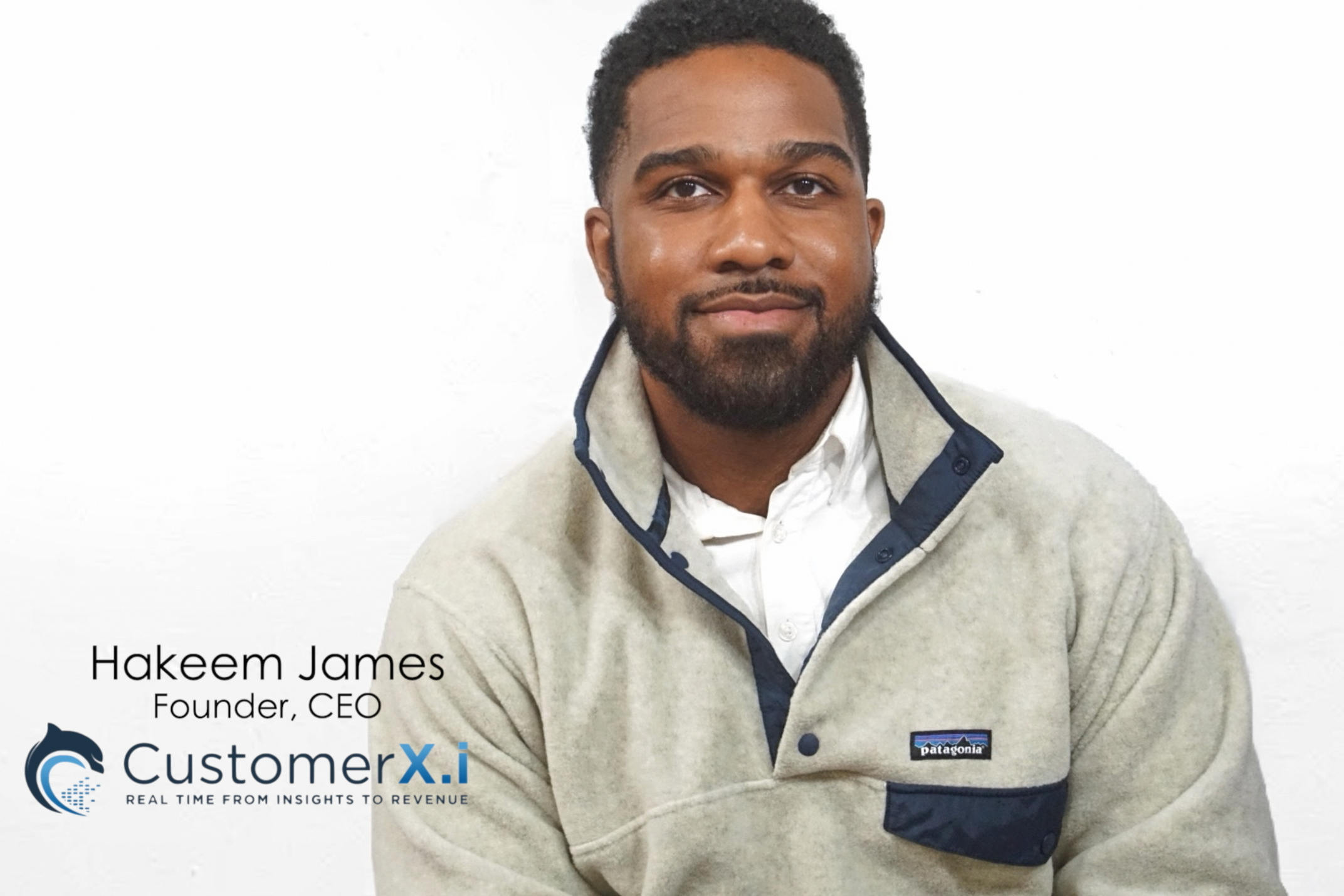 How has your previous career experience laid the foundation for your startup?
I've worn the hat of leading innovation for some time - whether that was heading a product or just being a part of innovation teams. My background was classically trained as a chemist where I was in charge of new formulations, and just finding out what's next and what's working. I'm used to testing and failing, so that gave me a strong appetite to move on from things that don't work quickly. My previous career experience also taught me to dig really deep with things that do work.
Starting CustomerX.i, getting that early validation, and really understanding our customers to make sure we're solving a pain point for them was the foundation of my business.
We started by doing strong customer interviews to make sure what we were building was actually needed. Once we saw we were truly solving a pain point, we knew we were on to something.
Just think about it.
Restaurants don't see the vast majority of their customers that walk through the door and sometimes they struggle with knowing them. Some restaurants can accomplish this through loyalty programs, and at times, we work alongside those loyalty programs too to make them stronger.
However, when you think of loyalty programs for restaurants, often Chick-fil-A and Starbucks come to mind. But really, once you get outside of that, not a lot of loyalty programs for other restaurants are generally used in the food and restaurant space.
Because of this and other reasons, the majority of stores are not able to capture and really understand who their customers are. At CustomerX.i, we pull data directly from point of sale and other methods inside the store to recognize up to 80% of customers that walk through the door - and in some cases, higher.
So when you think about mom-and-pop shops that can't afford to build a loyalty program, CustomerX.i is their start. We're helping them find more of their customers that they typically wouldn't be able to find, and we help them understand what's leading their customers to purchase. Then ultimately, we help them market to their customers, whether it's the soccer mom that is coming in, or someone trying to build a quick meal out of convenience.
I've learned that understanding how and why people buy from you helps you optimize your business and your market. Ultimately, it helps you gain share of wallet, which is what brands need in order to survive today. These methods and technologies are being used by the largest retailers today, and they are the ones that are continuously gaining share of wallet from the mom-and-pop businesses. At CustomerX.i, what we do is bridge the gap for restaurants to really catch up with what the rest of the world has already been doing.

How have you built a team culture of being customer-obsessed?
Diving deeper to put ourselves in the shoes of our customers has been CustomerX.i's Northstar since almost its inception. Our tech team comes with vast experience doing this at the highest level for some of the largest retailers in the world to the most sophisticated. Our business development team, the ones with boots on the ground, the folks that are talking to customers and really understanding their problem, have a deep experience in the restaurant space.
Ultimately, we're really proud to be able to marry those two sides - the best of the best from the tech side to the strongest of understanding and solving the restaurant problems on our sales and business development team.
How do you approach customer acquisition?
We see ourselves as partners with our customers, because what we're doing is so new. There is often an educational hurdle that we go through, but we work with our customers to understand their goals so that they get the best use of our product. We spend time continuously guiding them along that journey of winning more customers and understanding them. Our platform is built to do that, right now, out of the box.
What was important for you to understand as you were finding product-market fit?
Making sure we were scratching the itch of the customer and not our own was super important. We didn't want to come in with our own bias of what we thought our customers needed. Instead, we spent time really talking to them and listening.
Coming from outside the industry, I really approached this problem with fresh eyes, and that forced me to do a lot of listening to the customer, as well as testing and validating.
Looking at where we are now, I think it's paid off.

In the early days, were you focused on raising funding?
It's paid off for us to be extremely customer obsessive, and that's the term we use internally. Early on, our focus has always been, and continues to be, just learning from our customers. That has proven value and has helped us be customer-funded from the start.
Now today, we're excited to have really good advisors and strategic partners along the way like Google and Microsoft to join us on this journey.
Editor's Note: CustomerX.i has been accepted into Google for Startups' Black Founders Fund and Microsoft for Startups.
What advice do you have for founders?
Find your Northstar and then stick to that. Also, from a development standpoint, look for patterns.
There will be a consistent theme across the board of what customers are asking you for and it's your job as the product owner or the CEO to find that, own it, and continue to drive that value. Ultimately, your success will be built off of 'are you building a great product, and are people willing to pay for it.'
As a founder, you need to solve a real problem and not just build for the sake of building.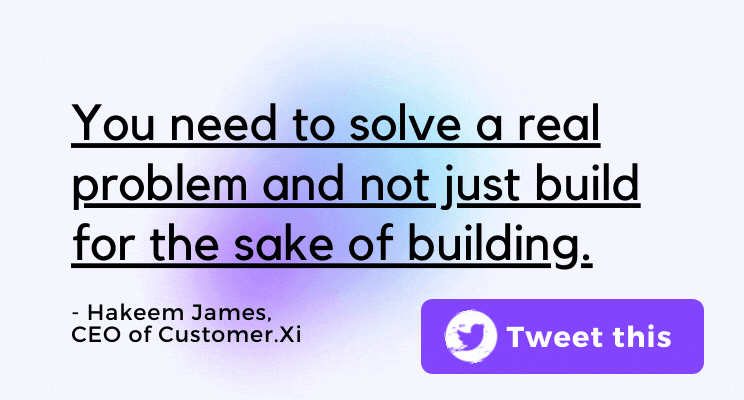 Another thing, at CustomerX.i we don't spend much time looking at competitors or even discussing them, frankly, if at all. We are totally customer obsessive and I think that means all the difference. Being absolutely customer-obsessed and making sure we're solving a real problem, the best way possible, and in the most effective way for all parties involved, has paid off for us.
Speaking of being customer obsessive, we launched CustomerX.i in Ohio, but we moved to Dallas to be closer to our customers. Dallas has more restaurants than almost anywhere else in the country, so it was an obvious choice for us to plant our feet here.
One last piece of advice for founders - you should know a little bit about everything, but be an absolute expert in the thing you do and in your field. It's important that you know enough and are customer obsessive so that you can bring and drive true value.