What started off as an Instagram Live "Homeschoolin' Social Distancing Dance Party" four days ago has turned into a record-breaking, star-studded #ClubQuarantine online party, hosted by the legendary D-Nice. After seeing several organic mentions on my social media, I joined Saturday afternoon from the comfort of my home. I didn't log off until after Midnight. The music was on FIRE, the comments kept me engaged, and the list of all-star celebrities party-goers seemed to never end. D-Nice went eight hours strong, and he's back at it again tonight.
What D-Nice did, and is still doing, is brilliant for several reasons:
1) He worked with speed to solve an unmet need with a bullseye target audience. 
Homeschooling is no easy task, and even more challenging for parents who are thrust into this role without warning or preparation. Pile on top of that working from home, breaking up sibling rivalries and being a short-order cook. Whew, child! This was a long week! (cue the marketing insight)
By taking our minds off the quarantine, D-Nice eased the stress of parents and non-parents alike at a time when our lives and routines were being disrupted. He uplifted our spirits and solved an unmet need. Plus, he had first-mover advantage.
2) People love recognition. 
The sweetest sound to a person's ear is their own name, and D-Nice was very generous with shout-outs. As celebrities joined the party, he called out their names, almost in a humbling "oh my gosh, I can't believe they're in the party" type of way. It was so authentic. Then he would say, "we need Will and Jada to join. Where you at, Will and Jada?" It didn't take long before Will, Jada, and many more celebrities joined the party. It was magical!
He had every right to be star-struck. Saturday night's celebrities included Oprah, Michelle Obama, Janet Jackson, Rihanna, Will Smith, Jada Pinkett Smith, Lenny Kravitz, Halle Berry, Nile Rodgers, Lalah Hathaway, Missy Elliott, Bernie Sanders, Joe Biden, Dwyane Wade, Fab Five Freddy, Mark Zuckerberg, Taraji P. Hinson, Queen Latifah, Donnie Wahlberg, Angela Bassett, Bruno Mars, Sheila E. and many more.
This is one of many reasons I "partied" for more than six hours and am back at it on Sunday. I wanted to see who was going to join next.
3) He answered the essential question for every brand builder – what's in it for me? 
For marketers, we call it a benefit, and his virtual parties provided many, many benefits:
· Feelings of happiness and relaxation
· Reasons to dance
· A sense of belonging
· A feeling of community
· Entertainment
· "Access" to celebrities
· Avoiding FOMO — fear of missing out
·        And best of all, every time a musical performer joined, D-Nice played their songs. Simply brilliant!!!
4) His live social distancing parties spoke to several human truths:
a. People crave community. Whether you're an introvert or extrovert, human beings crave community. We are living through unprecedented times and gathering with friends and like-minded people brings comfort…even online.
b. Music has healing power. Music is emotive. It brings joy. It makes you feel better. Music makes you move from side to side with the rhythms of each beat, uniting people from all walks of life, around the globe. As African-Americans, music has long been a mental, emotional escape and a reason to persevere through challenging times….whether Negro spirituals, blues, gospel, R&B or hip hop. Sometimes music is the only medicine the heart and soul needs.
c.      People are attracted to your authenticity. D-Nice has been performing as a deejay, beatboxer, rapper, producer, and photographer since the 80s when he was in the hip hop group Boogie Down Productions. The service he's providing this week falls squarely in his area of expertise. What I love most is that he's just being himself…deejaying to music people love, wearing a simple t-shirt, and changing his hat every so often to keep the crowd entertained and express his unique personality.
So what's the ROI for his servant leadership?
· Day 1 viewers totaled around 200; Saturday's virtual dance party exceeded 100K people after several hours; within the first 15 minutes of starting Sunday's virtual dance party, more than 100K people joined.
· D-Nice Instagram followers more than quadrupled from 200K on Saturday to 1.1M and counting on Sunday night
· He has garnered media articles, including Forbes, New York Times, CNN, USA Today, ESSENCE, People, Billboard, and more
· His brand value – and bank account – just skyrocketed. A few people encouraged viewers to tip the deejay through CashApp @BrandNice. I gladly obliged. He provided an amazing service and did it with excellence. And, while this idea probably didn't begin with profit in mind, I'm certain his calendar will be booked, and he can charge a premium for his services.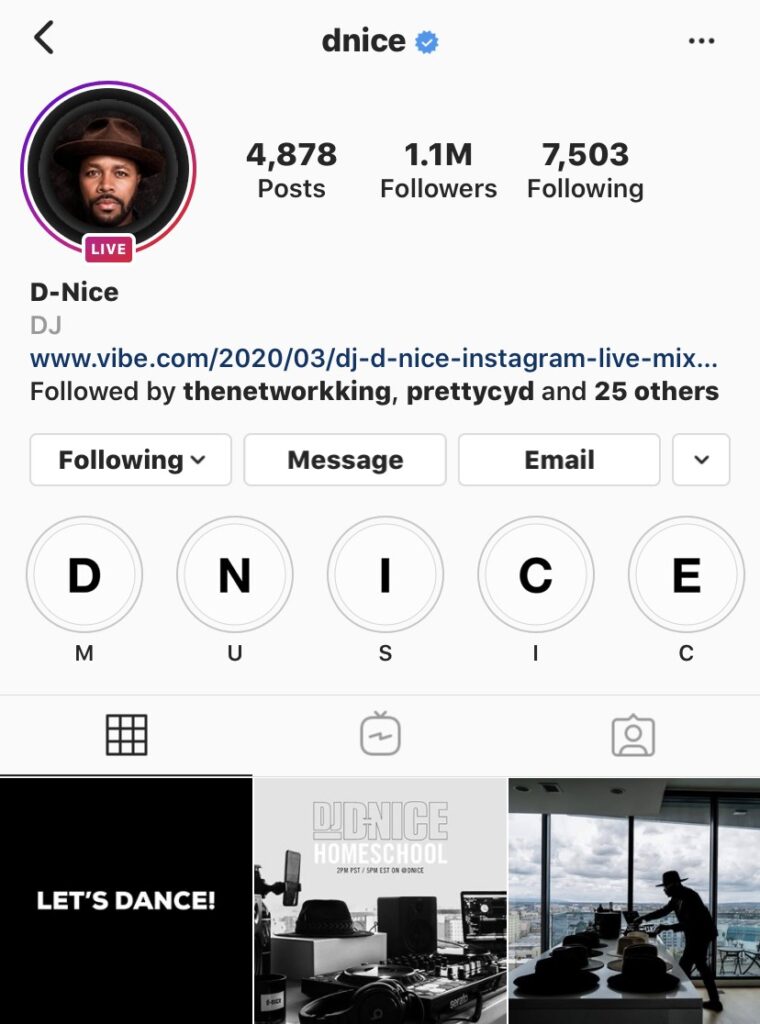 D-Nice, thank you for bringing the world together at a time when we needed it most!
By the way, he might still be spinning on the ones and twos.
Visit D-Nice Instagram page to join the virtual party. See you there!
---
THIS ARTICLE ORIGINALLY APPEARED ON KRISTIN HARPER OF DRIVEN TO SUCCEED, LLC LINKEDIN BLOG. IT IS REPUBLISHED WITH PERMISSION.