The holidays are here which means it's the biggest shopping season of the year! I'm sure if you're like me, you're making a list and checking it twice to make sure you have everything on it that you would like as a gift. This year, it's different for me though. I wanted gifts that would help me be a better business owner, a better writer, a better me. So, I only asked for things that were related to business like leadership coaching, strategy sessions, the annual payment for my business' website, goal setting planners, etc.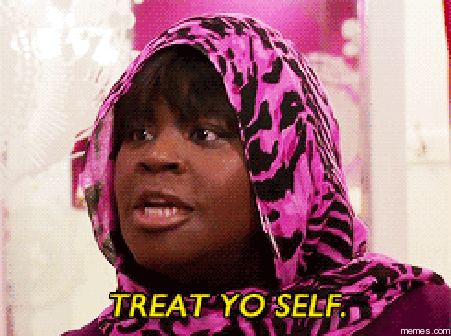 I decided to put together a list of 10 Black-owned businesses that offer amazing services for moguls. From professional networking groups and organizations, leadership and professional/personal development coaching, courses, workshops, webinars, technology consulting, the list goes on and on with the available support, both free and paid, for professionals.
Take a look at our list and consider adding them to your gift list this year. Let's end the year and this decade strong!
 Alyahs Management
Imagine having the strategies in place to transform your brand and continue on the road to success. Shayla Varnado, the founder of Alyahs Management, has the passion, knowledge, and dedication that equips business owners and entrepreneurs with the unique strategies to expand their brand. With services including brand consulting, business strategy, branding, and social media workshops and coaching, Shayla is "the business strategist you never knew you needed."

Follow Shayla and Alyahs Management on Facebook and Instagram @shaylavarnado and @alyahsmanagement
Social X
Being able to network while having a good time is a dream after a long workday. Insert Social X, a young professional diversity and inclusion consulting group in Milwaukee, WI. With a focus on Social Impact, Health and Wellness, Arts & Culture, Community Service, Personal & Professional Development and Talent Retention and Recruitment, Social X is dedicated to the success and development of Milwaukee's urban young professional community.

Follow Social X on Facebook and Instagram.
The Communication Strategist
Effective communication is a major key to success in business and life. With over 15 years of experience, along with an energetic personality, a gift of interpersonal communication and interactive training techniques, Dorothy Enriquez of The Communication Strategist thrives off the energy from the individuals and businesses she supports through her customizable workshops, keynotes, and turnkey solutions. Her customized communication and leadership solutions deliver professional development techniques for the everyday professional. Through her signature workshops like Hello, I'm Awesome and They Don't Teach Corporate in College and her personalized coaching services, professionals, entrepreneurs, and small business owners are provided with the tools and support to become the best version of themselves in business and their personal lives.

Follow Dorothy and The Communication Strategist on Facebook and Instagram.
Robbins Nest Consulting
"When you know your why, the what makes sense!" Dr. Laci Coppins Robbins and her boutique consulting firm, Robbins' Nest Consulting, have built a brand dedicated to empowering professionals. From those in prominent leadership roles to aspiring leaders, Dr. Laci trains on the essentials which include talent retention, organizational culture, and organizational management. Additionally, her personal development coaching sessions promote an opportunity for motivation, growth, and development. 

Follow Dr. Laci and Robbins Nest Consulting on Facebook and Instagram. 
Black Professionals Network
With a Black Professionals Summit, career resources, courses and workshops, mixers and networking events, mentoring, and even a program that supports professionals in their pursuit of land and homeownership, the Black Professionals Network is committed to providing access to black professionals. The goal is to give black professionals a platform to connect with other professionals while advancing in their careers and professional lives.

Stay up to date on Black Professionals Network on Facebook and Instagram.
Women CEO Project
Made with women entrepreneurs in mind. The Women CEO Project, founded by CEO Kristi L. Jackson, was created to empower women as they move through the business world. Kristi consistently reminds women their best investment is in themselves. Through her private coaching sessions, business bundles, Global Power Tour, and several other products that are geared towards helping women leverage their contacts, build upon their knowledge and learn several elements of business to make their brands a success. The Women CEO Project has something for every woman in business.

Keep up with the Women CEO Project and Kristi on Facebook and Instagram.
The Bougie Business Brand
If you are thinking of or have started a business in the fashion, beauty or hair industries, you've come to the right place with The Bougie Business Brand. Even if you have a business in a different field, you may still find some of her business resources extremely helpful. With courses like Legal Tea or Bougie Business Basics 101 or even e-books like Instaca$h, The Bougie Business Brand is helping entrepreneurs create profitable and influential brands.

Want more of The Bougie Business Brand? Follow them on Facebook and Instagram.
Luxurious Lifestyle Planner
Creating the life you want is about so much more than just speaking it. It's so important to write down your goals, get organized and create a plan. The Luxurious Lifestyle Planner is just what you need to manifest your goals on paper and focus on how to make those goals a reality. Even more, the planner focuses on budgeting, finance, and credit, all the necessitates needed to run a successful business. There are even envelopes already created with you in mind. From lunch money to groceries to even self-care, you use what's in your envelope only to save and focus on your financial goals. It's perfect for you keeping you on track personally and professionally.

Head over to Luxurious Lifestyle Planner's Facebook and Instagram to learn more.
Black Business Boom
The "Groupon" for black businesses. That's what so many think of when they learn about Black Business Boom. Created by Danielle McGee, Black Business Boom was developed as a platform for Black businesses to market their businesses and services as well as a vehicle to recruit new customers by offering coupons for services. With nearly 400 Black-owned businesses in several cities across the US, there are many services for professionals including coaching, health and wellness, and business and financial services. Additionally, Danielle offers marketing and social media resources.

Follow Black Business Boom on Facebook and Instagram to learn more marketing strategies for your business or to even register your business for the platform.
The Social Media Dr
Are you feeling overwhelmed with building a social media strategy or even understanding digital marketing for your business or brand? Thanks to Dr. Lauren Elise of The Social Media Dr. those feelings of fear or stress can be minimized. The Social Media Dr. works with businesses and brands to increase their visibility, engagement, and revenue. They also provide social media coaching as support to businesses and brands. They even provide nonprofit consulting for those that are completing the 501c3 process.

Get to know The Social Media Dr. on Instagram.
---
feature photo credit: https://www.instagram.com/lajoyphotographyllc/