Often times, it's our surroundings, network of friends, hobbies, and our upbringing that influence our career decisions.
For Yannique Joseph, one might say that her entrepreneurial spirit was instilled by her father who built his wholesale footwear company from the ground up. Others may say it was her innate thirst for creativity and fashion that really inspired her small business.
After talking with Yannique, I would argue that it was a mix of both things, as well as her passion for sharing the beauty of vintage clothing that really ignited her entrepreneurial path.
Yannique launched her vintage store Ohana Vintage out of her closet in 2013, and has since worked with social media influencers, fashion magnates and photographers to launch her brand. She's even taken part in pop up stores from NY to New Orleans, such as the one curated by Girl Boss. Outside of Ohana Vintage, Yannique manages young micro-influencers through her company, Shine Influence and helps Gen Z influencers get paid collaborations.
Recently, we caught up with Yannique and learned more about her inspiration from launching her company, her startup costs, and the one big thing that she wishes she would've known about money before launching her biz. Here are the top takeaways from our conversation.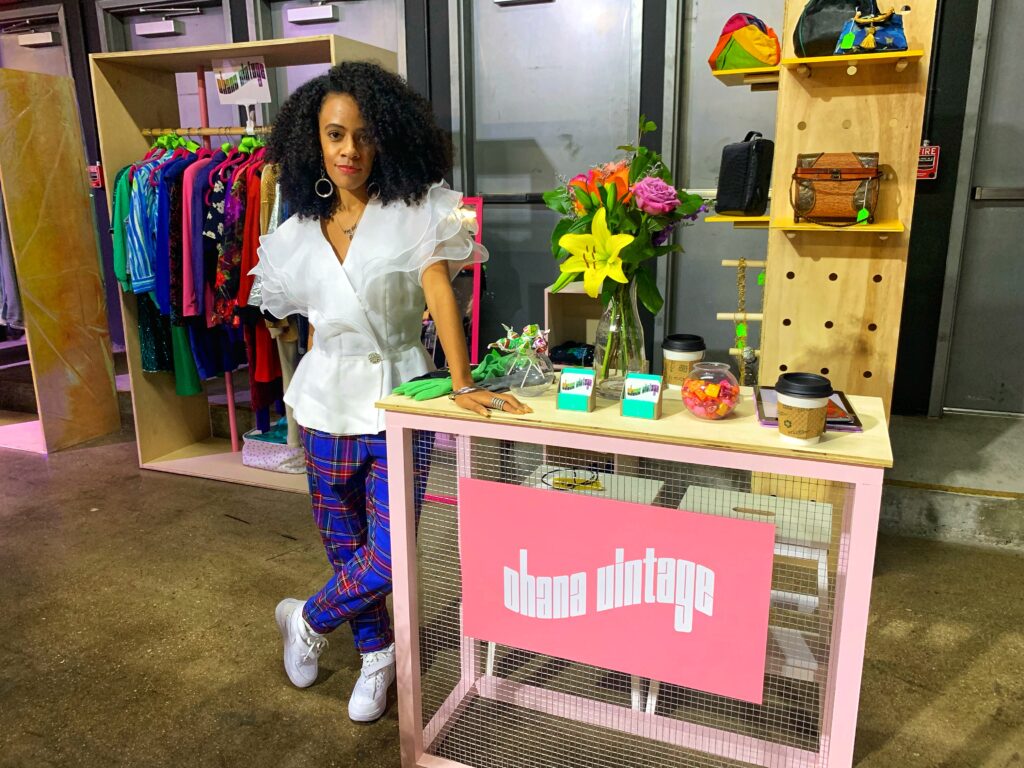 1. What was your first job ever and how did it influence you as the businesswoman that you are today?
My very first job was at 15, and I had a summer job in Queens at an office. It was a company that my aunt was working for at the time and I did things like filing and general administrative tasks. This job taught me a lot about responsibility. While I was working there, my dad sat down with me, and he showed me how to budget. When I got my paycheck, I was only allowed to take money out for my MetroCard and for lunch, and the rest has to go to my savings. I definitely learned a lot about responsibility and saving money through this experience.
2. Tell me more about Ohana Vintage.
Ohana Vintage an online shop where I sell clothing and accessories mostly for women, but sometimes I'll sell pieces for men. I sell items anywhere from like the 60s to the 90s – my pieces are really authentic vintage wear. I know that nowadays there are thrifting shops where you can go buy things that somebody bought from a store like Zara or H&M, but my company doesn't do anything like that. Everything that we have is official, authentic vintage clothing.
I was inspired to create Ohana while I was on vacation in Hawaii in 2013. At that time, I was already an avid vintage collector, and while I was on vacation, I had the thought to start selling vintage clothes since I was very passionate about it. A year later, I started selling vintage clothing with a friend on eBay. The business started out as a general partnership, but now, I run my business solo. During that time, I didn't really take it as seriously as I should have. The business was half serious, half hobby, and I was freelancing at the time as well. Whatever money I made from freelancing, I was putting back into the business.
3. What were your initial startup costs?
I remember when I first started selling on eBay, you could be a one-off seller, or you could do something called an eBay storefront and that's what I did. It was around $15 or $20 a month, and I started my storefront with the vintage items that I had. I also had my cousin model all of the clothes, so I was able to save costs there too. Once we started to make money, I used those funds to buy more things to resell.
4. How did you market your company in the beginning and how long did it take to get your first sale?
For my first sale, I made $15 a few short months after I launched my company on eBay. I was mainly using my social media profiles to promote my items that were on eBay, and then after two years of being on eBay, I started selling my items on Etsy. I soon found that Etsy had more of a niche market, so I ended up selling completely everything on there. On Etsy, I started using the marketing tools that they provided and that was helpful as well. Around 2017, I decided to launch my own website through Shopify, and now, I'm promoting and selling our pieces through Etsy, social media, my website, and email lists.
5. What has contributed the most to your revenue?
Every now and then, I'll pay for Etsy and Facebook ads, but I found that the most organic strategies have been most helpful. For example, just being intentional with how I describe the products and use tags helps people find my items.
6. How much have you personally invested in it in your company?
When I first started, I was doing everything myself manually – I even had an Excel sheet where I was literally typing in everything that was going on in my business. Recently, I started using Wave accounting software and it's helped me a lot in my business.
Since I launched my company, I've put in around $3000 of my own money. This has gone to making my email accounts, paying for photographers and models every now and then, participating in pop up shops, and spending money on vendor fees.
7. What does your team look like?
The "we" in my team is me.
I'm doing everything myself right now. When I first launched, my friend was helping more so on the creative side. Now, I'm doing literally everything myself, except for around tax season, I'll hire an accountant.
To save money, I've become the model, photographer, and the CEO all in one. I don't like modeling, so I learned how to take photos where just the clothing is the focus. I've bought a backdrop and a phone stand to shoot all of my looks, and I even taught myself to edit photos on an iPhone app. This has all helped me save money in my business.
8. Is there anything you wish you would've done differently?
I wish I would've paid attention to numbers more and created actual revenue goals in the beginning. When I first launched, I didn't make hard money goals for myself. I'm not sure if doing that would've changed where I'm at now in business, but I've learned the importance of it and I'm doing that now.
---
To keep up with Yannique, follow Ohana Vintage on Instagram here.