Balancing any career with your personal life can be challenging, overwhelming, but fulfilling. Running a successful styling business while working full-time is still very possible, if approached and done right. We sat with 3 stylists to provide you advice on how to stay balanced while working a 9-5 and doing styling.
Fashion Mentor founder and Celebrity Stylist Brittany Diego advises to set SMART goals. This will help you set deadlines for realistic and attainable goals. Diego goes further to say "putting a date behind finishing a task or achieving something makes it real and allows you to know ahead how much time you need to allocate to reach that" because after all "a goal with no deadline is just a dream."
Once you are on your way to becoming a stylist and you've set your goals and clients are booking you left and right (we're manifesting here) you'll want to look into hiring an assistant, if your funds allow for it. Diego mentions an assistant can help with "pick-ups, emails and a virtual assistant can field your consultation inbox to handle your schedule."
This will not only help you with time management, but give you experience with being a leader and delegating tasks. Once you do hire an assistant, make sure to have open communication and transparency about expectations and this provides time to properly prepare.
"Preparing is the most important because PR and Showroom hours are during your work hours…send out requests in advance, in the evening and use lunch breaks to follow up" says London based Stylist Yasmine Sabri. Being transparent with your 9-5 about your goals will help you avoid conflict with scheduling and will provide expectation for everyone involved.
Sabri who has dressed the likes of Ari Lennox and Wretch 32 managed her 9-5 while maintaining her stylist endeavors before becoming a full time stylist. Sabri reiterates the use of having an assistant with emphasis on trust, "while you're at work, you have someone to rely on to do pickups & returns which takes a huge weight off your shoulders" and schedule.
Because of Covid-19 you may be working from home and going out on set with a full production team has been out of the question. Showing off your personal style can be a way to engage with your audience, while maintaining your 9-5. You will want to be intentional with your style brand, and that too takes up time, so how to get everything done?
Style and Image Coach Imani Ross, currently balances a 9-5 with styling says "without enough hours in the day to shoot, write blog post/captions, being engaged and working a full time batching and pre-planning content is essential part to balancing"
If you're wondering what batching is, it is a technique used to group similar tasks together, to be completed in time blocks, ideally it helps with productivity. It requires you schedule your day, but it is meant to save you time in the long run. Preparing and committing to getting a task completed will help keep feelings of being overwhelmed at bay. Ross even gives her Pro Tip on how to go about batching your style content "Shoot 3 totally different looks, in 3 totally different backgrounds with 3 totally different angles of shots, that way it doesn't all look the same, and don't forget to swap accessories and lip color…details make a huge difference." Being able to schedule your task will set you up to be prepared and ready to go for when the world opens back up.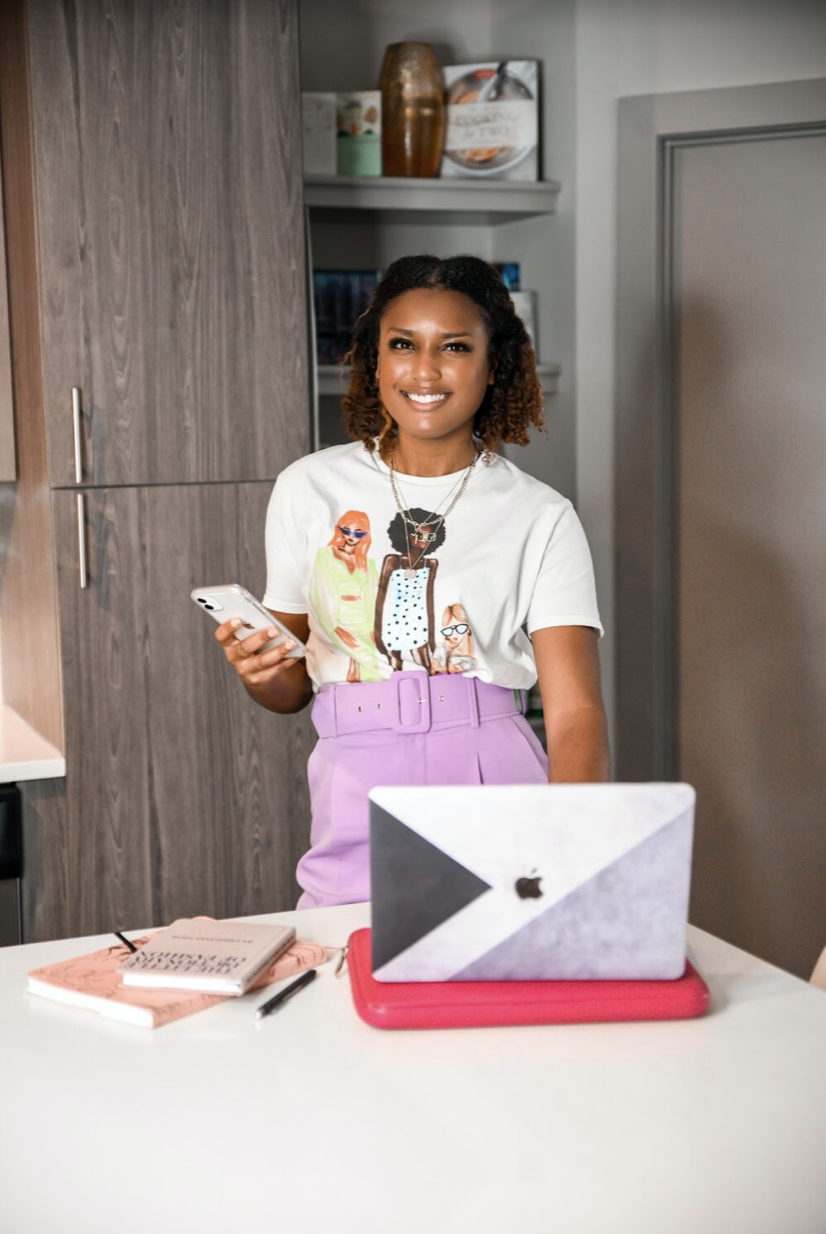 To summarize here is what you can do to help balance styling with a 9-5
Set SMART Goals - Are your goals specific and can you track their progression? Are they realistic and attainable and can they be completed within a specified time frame?
S pecific
M easureable
A ttainable
R ealistic
T imely
Batch your Content - Block out time frames and commit to completing task all at once
Schedule in Advance -Reach out to contacts beforehand and plan out follow ups. This includes Brand Contacts, Public Relation offices and Showrooms
Prepare - Once you have batched and created your style content you can use apps like Later and Preview to plan your social media
Be Transparent - Being honest with your clients and your job about schedules and availability will help make things run smoothly
Hire an Assistant - This is something you will build up to, but once you are there it will help with all aspects of styling and shape you into a better leader
You don't have to reach burn out to be successful. Following this advice will help you create structure, stay organized and keep you balanced. Happy Styling.
THIS ARTICLE ORIGINALLY APPEARED ON FASHION MENTOR. IT IS REPUBLISHED WITH PERMISSION.